Vinpocetine 10 mg
INTELECTOL FORTE is the purest form of Vinpocetine available.
Vinpocetine is obtained from tabersonine, extracted from Voacanga africana seeds. Research suggests that Vinpocetine helps to maintain healthy blood circulation in the brain and supports certain neurotransmitters in the memory process. Vinpocetine supports and protects brain blood vessel health and aids mental function.
Recommended use: Helps support cognitive health and brain function
Medical ingredients: Each tablet contains Vinpocetine 10 mg
Non-medical ingredients: talc, magnesium stearate, lactose monohydrate and hrydroxypropylcellulose
(18 years and over) For oral use. As a dietary supplement take 1 tablet 3 times per day with meal. Recommended daily dose of vinpocetine is 30 mg/day.
Consult your Healthcare professional regarding the duration of Intelectol intake.
Cautions and Warnings
If you are pregnant or breastfeeding, consult a healthcare practitioner prior to use.
Hypersensitivity is known to occur, in which case, discontinue use.
If you have high blood pressure, low pressure, or taking blood thines, consult a healthcare practitioner prior use.
Keep out of reach of children
Disclaimer The information and product descriptions appearing on this website are for information purposes only, and are not intended to provide or replace medical advice to individuals from a qualified health care professional. Consult with your physician if you have any health concerns, and before initiating any new diet, exercise, supplement, or other lifestyle changes.
---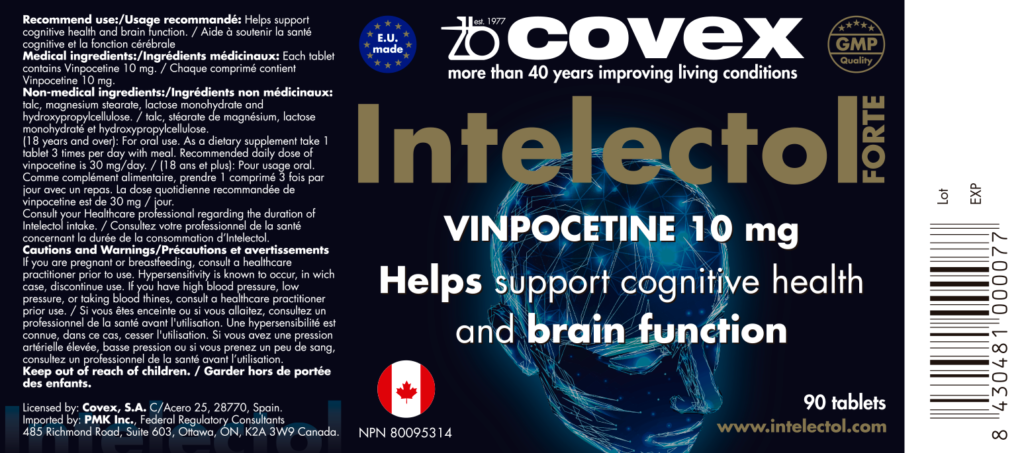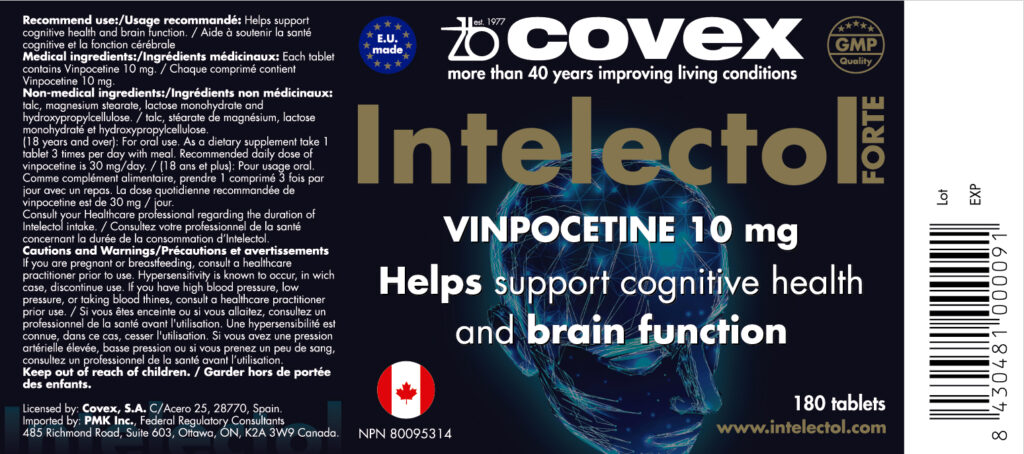 WHERE WE ARE
Covex, S.A.
Calle Acero 25
28770, Colmenar Viejo, Madrid, Spain